This section has lots of information on Jeremy Dyson
Jeremy Dyson comes from Leeds and is the only member of The League of Gentlemen who still lives in his hometown. He studied philosophy at Leeds University and scriptwriting at the Northern School of Film and Television. He is the only one of the foursome that doesn`t act; He only writes, but what a super writer he is. He has had several books published before The League of Gentlemen made it big time. These include:
The Essex Files (co written with Mark Gatiss)
Never Trust a Rabbit
Bright Darkness: The Lost Art of The Supernatural Horror Film (co written with Pete Crowther)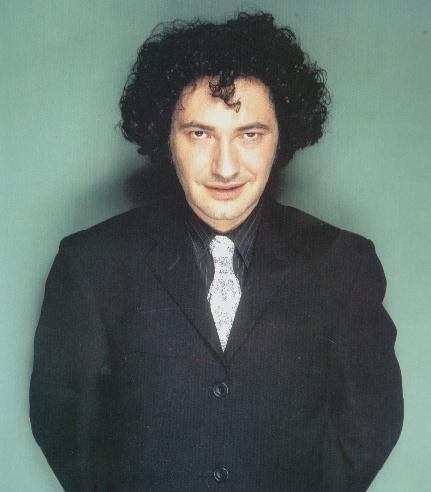 Jeremy from the tour program
Even though Jeremy isn`t an actor ``I`m not an actor, I`m a writer and I never set out to be an actor`` (but recently fans discovered that the actual reason is he has an unfortunate allergy to halogen lighting and is therefore unable to appear on stage or screen!!!) he does make a couple of cameo appearances on the show. In series one he appears briefly buying 3 lighters for a pound from Les McQueen and then in Series Two as a guitarist in Creme Brulee. He is also spotted in the Christmas Special in the background in the Stella and Charlie sketch as a Mike King look a like, he is in the crowd watching Mr. Chinnery operate on the rabbit, this is also his first speaking part `sorry` is his only line. He can later be spotted holding a duck when Chinnery`s curse begins.

He has also had short stories published in several compilation books:
All in the Telling: Blue Motel (Little Brown UK, 1994)
City Deep: Tombs (White Wolf, 1995)
Strawberry Blonde: Splendour Falls (White Wolf, 1995)
The Maze: Destination Unknown (White Wolf, 1997)

Jeremy`s short story `All in the Telling` was given a special commendation in the USA `Years Best Fantasy And Horror` annual.

Out if all of the books above I regrettably have to say that I only own `Never Trust a Rabbit` at the moment, I am going to order `Bright Darkness` soon but unfortunately `The Essex Files` is out of print and therefore unavailable to buy in most book shops at present.



Jeremy is actually in a band called `Rudolph Rocker` and apparently they are quite good. You can purchase their CD`s on amazon, see the catalogue page for details Recently Jeremy has joined Joby Talbot (former member of cult band `The Divine Comedy` and writer of the music for The League of Gentlemen) for `The Same Dog`, which is a musical ghost story, which had its debut in London`s Barbican Concert Hall in June of this year.



On Friday 17th November I was lucky enough to meet Jeremy and the other members of The League of Gentlemen at a book signing at the Waterstones Book Shop in Birmingham. He was ever so friendly, signing books with nice personalised messages and posing for photos whenever he was asked.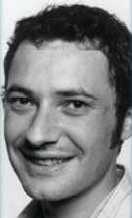 Not to much curly hair!
Jeremy has recently turned the story `Ringing The Changes` into a one off thirty minute radio show with Mark Gatiss. It was played at 11.00pm on Radio 4 on Halloween night and was very good. He has recently been on Radio 4`s `Front Row,` discussing The League of Gentlemen among other things.