Thanks To:
Just want to say a big thank you to Kris, Emma, Jess, Richard, Ben, Rob, Katie,Lucy, Michelle and Anisha for helping make it possible for me to bring you this web site!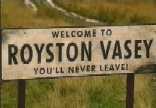 Online Contact Info
Katy_Westwood_15@yahoo.com
Website
www.log.fanspace.com
Please email me at the address above with any questions etc.
Also, please ask permission before taking anything from this site. It does not all belong to me so do not take it and claim as your own. The League of Gentlemen, Royston Vasey and all associated characters are the legal property of Jeremy Dyson, Mark Gatiss, Steve Pemberton and Reece Shearsmith. This site is unofficial no infringment is intended. Thank you.